A Trip to Cheung Chau and Dessert in Sai Kung
HKUST is well known for its heavy workload of study and research, and our Database Lab is no exception. Outside our coursework and TA/RA jobs, however, we students in the Database Lab take every opportunity to enjoy our university life and participate in outdoor activities.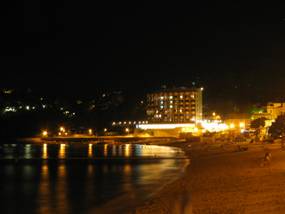 Night scene of the Tung Wan Beach.
On 5th July, 2003, several students of the Database Lab took a trip to Cheung Chau (a small outlying island of Hong Kong) to breathe the fresh air and enjoy the outdoor fun. After arriving at the beautiful island, we went to the famous Tung Wan Beach to feel the soft wind and the fine sand. Under the bright sunshine, we walked on the beach and let the waves massage our feet. We also flew a kite in the nice weather. Imagine how relaxing and enjoyable it is to fly a kite on a beach under the sunshine!
Hey, friends, let¡¦s start!
On the next day, we rode bicycles from the pier north to explore the seashore of Cheung Chau. The junks (a type of small fishing boats that local people use), the islands, the clouds, the sea and the fresh air were so refreshing that any stress from school work were totally resolved on our minds. After an hour of riding, we were starved. As Cheung Chau is famous for its seafood, we took a seafood lunch. We ate many types of seafood for just HK$50 per person! The food was fresh and tasted great, especially the steamed fish and the spicy razor clams. If you are heading for a good place to relax in Hong Kong, we highly recommend Cheung Chau.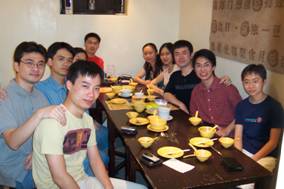 We are full! Nice desserts!
If taking a trip to an island is too time-consuming for you, going to Sai Kung (15 minutes by bus from HKUST) to have dessert is a fast way to relax. Moon Kee Dessert is definitely HKUSTers¡¦ favorite shop. The dessert there is absolutely fantastic and the mango pancake is a must-try specialty. Although the price is a little bit expensive, it is worth the money as the dessert there is an art rather than just food! Hanging out with some friends in the shop, having dessert, and discussing anything you like are a nice way to relax without taking you much time. So, whenever you would like to take a break, find some friends, hop onto a bus to Sai Kung, and have nice dessert!